I was so honored to be included in Bizarre Magazine's new book, entitled Body Art 3, as an "Inked Icon." I even made it on the cover (lower right-hand corner) and the Table of Contents, which was really fun!
As you can obviously tell from the title, this is the third installment from Bizarre in their Body Art series. These paperback books are beautifully done and include so many photos and such an array of body modifications. The first two editions were extremely popular and had to be re-printed many times to fulfill demand, so here's hoping that the new book does the same.
It is currently available on Amazon.co.uk and will soon be on the US site as well.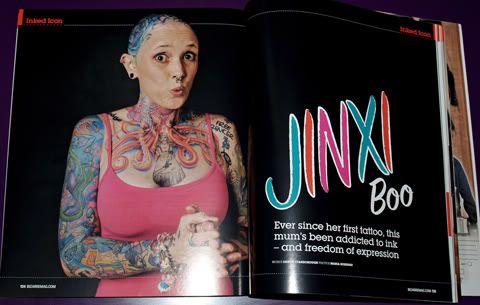 With the holidays approaching it might be a great gift for the tattoo/body mod enthusiast in your life.
The fantastic writer, Denise Stanborough, who interviewed me and worked on my segment in the book also just informed me that there will be a "Jinxi feature" in an upcoming issue of Bizarre Magazine, so I will be sure to keep you posted.
Thanks for your support!

Tuesday, November 3, 2009 at 9:15AM
| |

Email Article