Whether for a Thanksgiving feast, a yummy side dish to a vegan meal, or if you just want to try the vegan version of this tater treat; the following mashed potato recipe is easy to make and will leave you and your dinner guests smiling.

All you need is:
6-8 large potatoes
1 - 1 1/4 cup soy milk (I use unsweetened, but the regular is great too)
2 1/2 - 3 tablespoons vegan butter (Earth Balance is fantastic)
salt and pepper to taste
*6 garlic cloves, minced & lightly sauteed. *Garlic is optional - only use if you want to make them garlic mashed potatoes
1) Peel potatoes and cut into quarters. Heat lightly salted water to boiling. Add potatoes. Cover and heat to boiling; reduce heat. Boil until potatoes easily break when poked with a fork, usually 20 to 30 minutes.

2) Drain the potatoes. Beat with an electric mixer on the low setting for 2 minutes or so.

3) Once the lumps start smoothing out, add the soy milk, vegan butter and garlic. Add slowly because your amounts will vary depending on how many potatoes you used & how large they are. Work in until it is to the consistency you desire.

4) Beat until creamy; adding more milk or butter if necessary.

5) Add salt and pepper.

6) Enjoy!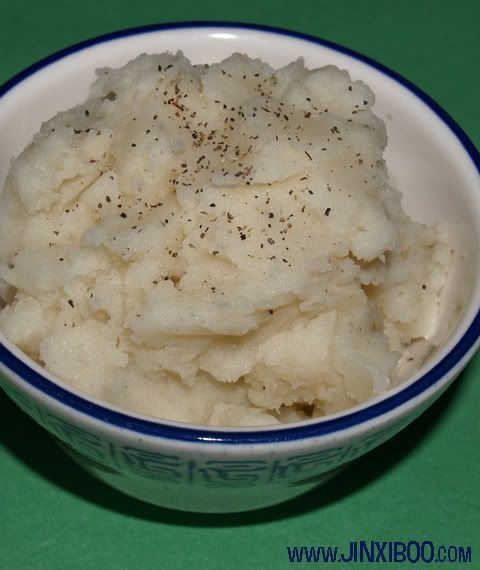 When I made these mashed potatoes last, I prepared them as a side dish to go with my Crispy Breaded Baked Tofu. To check out that recipe, just click on the photo below.

Wednesday, October 21, 2009 at 9:19AM
| |

Email Article